The Innovation
The art of artistic body sculpting was perfected by world famous body sculptor Dr. Alfredo Hoyos from Columbia. Dr Hossam Tahseen has gained the knowledge of this advanced technique from Dr. Hoyos in Columbia. He performed these procedures with Dr. Hoyos perfecting the art of Liposculpture.

Why 4D?
4D Sculpt™ uses a customized combination of anatomical landmarks to prevent deformities. That is why 4D Sculpt™ is called 4 dimensional lipo-sculpture. It uses height, width, depth, and dynamic motion. 4D Sculpt™ makes the natural progression of the body apparent according to muscle activity.
4D Sculpt™ is a completely customizable procedure that takes every variable into account. A woman hoping to reverse the signs of pregnancy will be viewed much differently than a man with an excess of intra-abdominal fat. An example of variables include: age, gender, body type, muscular motion, predicted weight loss, post-pregnancy markers, and so on. Every individual has their own set of different anatomical landmarks that must be taken into consideration for the final result to look like the patient's natural body.
Here's a before & after example of Liposculpture performed by Dr. Alfredo Hoyos: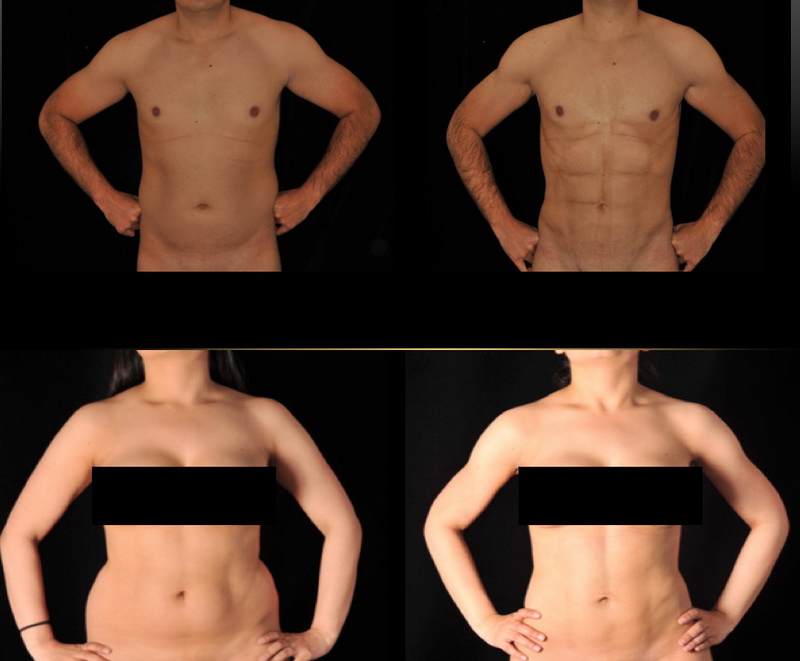 4D Sculpt™ fixes a "plastic" appearance that not only incorporates motion, but flows with it. It does this by integrating a second set of pre-surgical markings, drawn according to the patient's muscles in a static position and in dynamic motion.
Another example of 4D Liposculpture performed by Dr. Hossam Tahseen, shows clearly the development of the six pack in less than 3 weeks.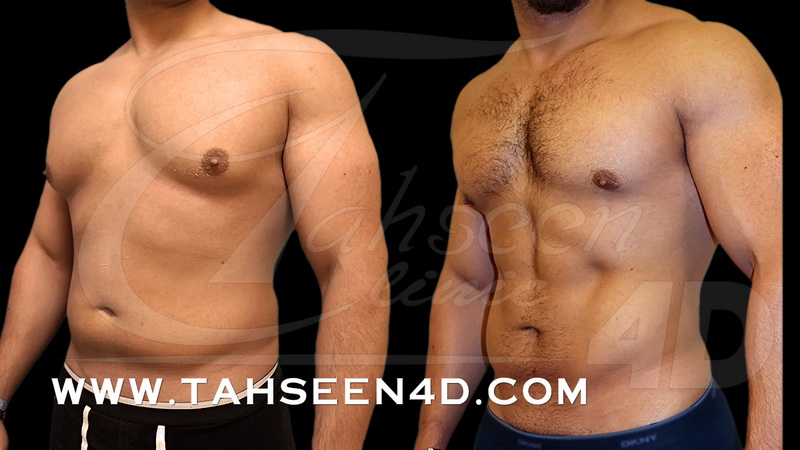 How does Vaser 4D Sculpt work?
Liposculpture using Vaser is invasive procedure performed with only local anesthesia, the procedure utilizes advanced ultrasound technology designed to gently reshape the body. VASER is a perfect way to trim down your fats and give your body better definition as it uses the body's own fat to create the shape. Unlike previous liposuction techniques, Vaser's unique probes mean the fat can be safely removed from the deep and middle layers without damaging blood vessels. The fat is emulsified so it is easier to extract, then is injected back into the muscles and fatty layers of the body where greater definition is required.
A demonstration for the amazing results performed by Dr. Hossam Tahseen, before, after the producer directly and after 48 hours
Advantage of Liposculpture over other fat removing procedures
- According to several clinical studies in over 50.000 cases, there was no reported serious complications from liposculture procedures using VASER.
- Overall, the 4D Liposculpture results in minimal bleeding and demonstrated improved skin retraction compared other liposuction procedures.
- Liposculpture is a single procedure which results in very short recovery time.
- May return to daily life routine after only 3-5 days after the procedure, and can resume workout or training exercise after 1-2 week.